I purchased a Wedge-Loc several years ago, I don't think there is another stand comparable. Took numerous deer from stand. Unfortunately it was stolen from my vehicle early this spring, wasn't sure this stand was still being made, glad to see still cranking out an awesome product and I'll for sure be buying another Wedge-Loc soon.  – Steve Y.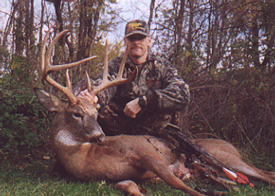 Here is one of the many bucks I have harvested from my Chippewa Wedge-Loc. He gross scored at 146. The versatility of the Chippewa Chief allowed me to slip into his core area under the cover of darkness.
Thanks for such a quality TreeStand. I have a feeling my buddy and I will be sending you many more trophy pictures in the future. Thank you very much!"
Ron R.,
Cumberland, Maryland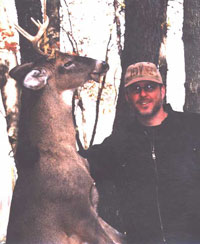 What can I say, I can't remember the last time I purchased something that actually lived up to it's advertising! I've never felt more safe or mobile with a tree stand ever! In fact even though I have 3 chains already I'm going to need at least 3 more. You'll be receiving my order shortly. Thank you for a quality product, and a truly enjoyable hunting season.!
Thanks for a Great Product!
Ron S.,
Ortonville, Michigan
"I like everything about your stands. On a scale of 1 to 10…
The Chippewa Ghost rates a 10. I wish I would have bought one a long time ago."
Kip D.,
Hollidaysburg, Pennsylvania
My stand has arrived! I am so impressed with the workmanship of not only the stand, but the Big Stix as well! I cannot see how the Wedge-Loc isn't the best stand out there. It is the only stand that I feel safe in, and allows me to not worry about the height I am at, but rather to concentrate on the hunt. Thank you so much!.
Brad C.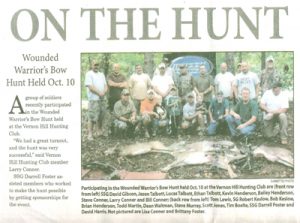 This is now Sfc Darrell Foster. I have been promoted I am writing you to inform you that because of your support at Basic Innovations, the Wounded Warrior Archery Hunters were able to take 12 deer during our Wounded Warrior hunts last season.
It really meant a lot to the soldiers as well as the support to see how your company donated to the Wounded Warriors. I have enclosed one newspaper article from the first hunt we had.
Four deer were taken from Chippewa Wedge-Loc Treestands – and thanks to them, the safety of the guys was no concern. We were able to hang the stands very quickly and they were so stable we did not have to worry about the guys falling… Even two soldiers that hunted with leg amputations.
Again, thanks for your support!
SFC Darrell F.,
Columbus, Georgia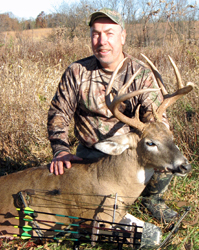 Just wanted to drop you a note and Thank You for your great tree stand.
I hunt a few states in the midwest and I've owed 2 for the last 8 years use your stand exclusively.
I can't afford a lot of tree stands and having to only buy extra chains is great, I can leave them for the season even on public ground (where allowed) and not have anyone steal them or hunt off my stand when I'm not there.
Also they go up and down safely, with ease and are very quiet!!. Here's a picture of the big 8 pointer I took last week in Missouri while using your stand.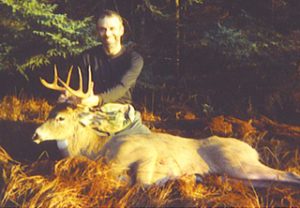 I was hoping to add this to your trophy page. I have had my Wedge-Loc for many years and it is hands down the best tree stand I have ever used.
The ease of set-up just never gets old. It allowed me to sneak in and quickly and quietly set-up and harvest this great Michigan U.P. buck.
I tell everyone I know if you want the best tree stand by a "Chippewa Wedge-Loc". The fact that you are very local to me (I'm from Sanford) is just a bonus. Thanks!
Kevin B.,
Sanford, Michigan